Enjoy each other's company in the peaceful Karkausmäki atmosphere!
Relax in the gentle heat of our sauna and nordic bath, savour the local flavours and relax in our natural surroundings.
A most suitable gift for a wedding couple, a birthday or a moment of rest in the middle of everyday hustle and bustle.
Accommodation Package includes the whole house reserved solely for you two.
This package includes:
-accommodation in the rustic and romantic double room
-three-course dinner containing local ingredients, served for you
-sauna and nordic bath with a lake view heated ready for you
-breakfast basket
-bathrobes, towels and pampering products
Sauna and nordic bath are waiting for you heated when you arrive.
They are ready to enjoy starting 3 pm and after sauna, dinner is served.
A three-course dinner will be prepared for you and served at your desired time. You can choose one of these two local food options:
Option 1:
-smoked vendace mousse on bread and green salad with lemon vinaigrette
-fried pike-perch of Lake Kivijärvi with wild mushroom sauce
-sliced potatoes with herbs and honey root vegetables
-cloudberry pannacotta
Option 2:
-smoked reindeer bread and green salad with lingonberry vinaigrette
-pepper steak from local beef in red wine sauce
-creamy cheese potatoes and herbal oven root vegetables
-chocolate cake and raspberry sauce
When booking, please specify your desired dinner time (between 5pm to 7pm).
If you wish, you can continue to enjoy our atmospheric traditional sauna after dinner.
In the morning you can sleep late, as the breakfast is delivered to the fridge:
-rye and oat bread
-sandwich spread
-cold cuts
-cheese
-salad
-cucumber
-tomatoes
-eggs
-yoghurt
-juice
-coffee or tea
Welcome to enjoy our services and relax in peace, just the two of you!
Price 380€/night

When booking, please specify your desired dinner time (between 5pm and 7pm), after which we'll confirm the time.
For dinner, please choose the same option for both.
Please let us know if you have any food allergies well in advance.
If you wish to stay a second night, the price is 160€.
Price includes breakfast, evening snack (breadrolls with chicken or fish, salty pie and fresh salad).
Sauna and nordic bath can be re-heated if you wish (50€ additional cost).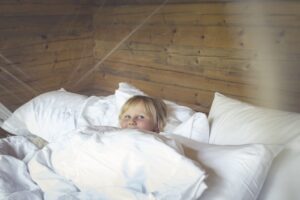 Sleep and relax – accommodation package in Karkausmäen Kammari The package includes: 1 night stay, including bed linen & towels welcome gift evening snack and
Read more »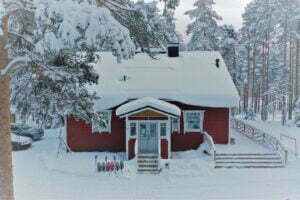 Winter trails – accommodation package for winter season Explore winter at Salamajärvi Nationalpark and Peura Trail in Northern Central Finland! Snowshoe in to wilderness and visit
Read more »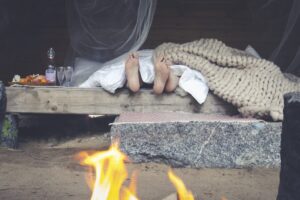 ****UNFORGETTABLE SUMMER MOMENTS!*** Our lean-to, laavu, is the perfect place to enjoy the sunset and picturesque lake sceneries.This accommodation can accommodate 2 persons.Mosqito net over
Read more »