Karkausmäki Guesthouse offers you a cosy accommodation facility in a natural environment with modern amenities.
Our house has five comfortable double rooms, and in the courtyard we also have a lean-to shelter and a mini camping site for three campers or caravan trailers.
Savour nature in the rural landscape of Kinnula, Northern Central Finland, in the vicinity of Salamajärvi National Park!
Rooms to Rent in Rural Kinnula
Stay comfortably in the countryside
Karkausmäki Guesthouse offers 5 double rooms. All rooms have 2 single beds.
The accommodation always includes bed linen and towels, and a kitchen with utensils and dishes is at your disposal. The shared toilets and shower facilities are in the immediate vicinity of the rooms, across the corridor.
Room for one person from
74 € / night
Room for two persons from
79 € / night
Escape for a mini holiday in the midst of our natural landscape in Central Finland! Enjoy a seasonally changing package of all-inclusive accommodation.
Karkaus Kaksin (An Escape for Just The Two of Us) – A Romantic Accommodation Package
The Karkaus Kaksin accommodation package includes the whole house reserved solely for the two of you. A most suitable gift for a wedding couple, a birthday or a moment of rest from the busy everyday commitments.
Sleep & Relax, One-Night Accommodation Package
Heat the sauna, relax and sit down in front of our fireplace or campfire to enjoy tasty evening snack. Fall asleep on the comfortable bed. Enjoy a late breakfast out on the terrace or in the tupa (combined living room and kitchen). Welcome!
Karkausmäki glamping - Sleep under the stars of Deep Land of Finland
Imagine waking up to a summer morning with lovely warmth and birds singing. Have you been dreaming about sleeping outside? Do it comfortably, between the sheets, in our glamping tent!
Rent the whole house for a day, weekend or week
You can rent the whole Karkausmäki Guesthouse for e.g. group, meeting or celebration purposes. The accommodation package always includes bed linen and towels, and a kitchen with utensils and dishes is at your disposal.
Whole house for a day
375,00 € / day
Weekend (fri - sun)
620,00 € / weekend
Whole week
970 ,00 € / week
(excluding seasonal prices midsummer, July, Christmas and New Year) For an additional fee, a nordic bath (50 €/time self-heating) and meals.
Same-day bookings by calling
Booking a room for the same day is not possible from the online store for the same day. Call the number to check the availability of the day +358 44 23 83 943.
Caravan park in the middle of nature
There is a small camping area in the area with space for three camper vans or caravans.
Shower and toilet available.
Place with electricity for camper van or caravan
16 € / night
Book from our webshop or with Matkaparkki.com-app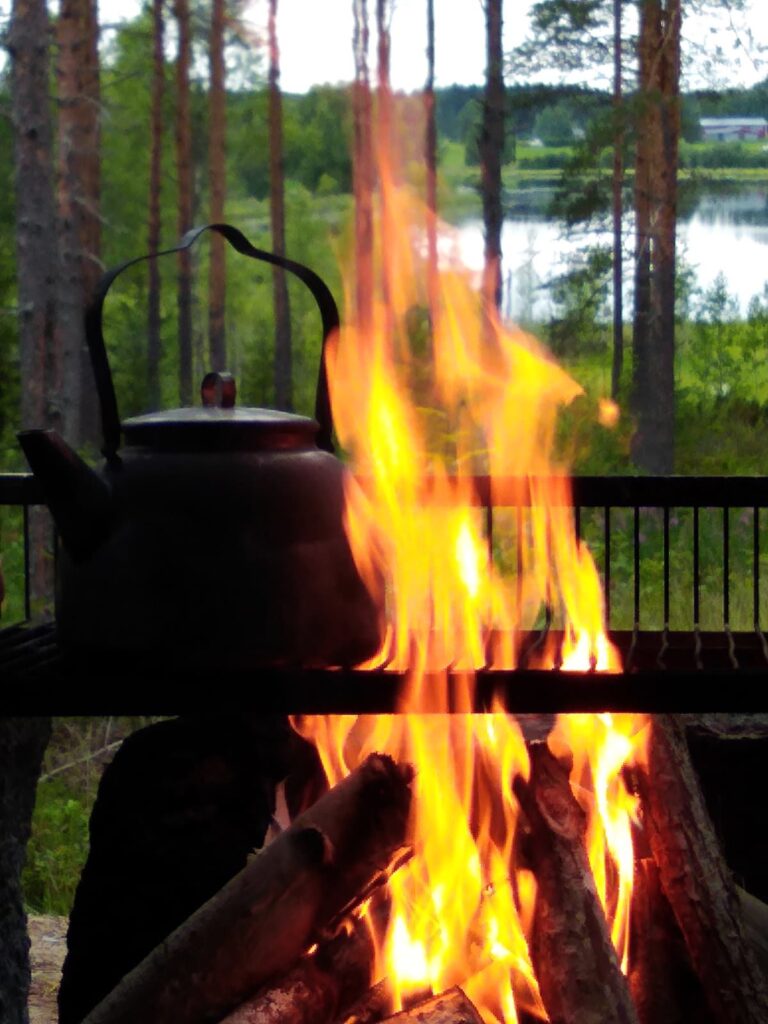 Stay comfortably in the countryside
In the light summer night you can experience the magic of the country landscape and admire the sunset at our lean-to shelter.
During bright winter nights you can hear the great horned owl hooting and watch the Northern Lights dancing!
Do indulge yourself in our peat or chocolate sauna or experience the nurturing power of the forest during our guided Forest Bathing, snow shoeing or hiking.